By now, most parents and guardians, of children attending (or planning to attend) daycare in Rockville, must have reviewed mountains of information related to wearing masks to keep themselves and their kids safe. However, we often receive questions, and requests for clarifications, around some aspects of those directives. In this post, we'll address some of the more pressing ones we hear most frequently.
Multiple Layers of Protection
The science is clear: Masking helps protect everyone, especially the most vulnerable in the community, which includes young children. However, they also help adults and older children too. And, if someone is immunocompromised, having a mask on in enclosed spaces is highly recommended by the medical community.
Public health guidelines encourage the wearing of masks for all students age two and older. They're safe, and pose no risk to a child's health, or their ability to breathe. There are also special guidelines to protect the unvaccinated members of the family and community – and masks feature prominently in those recommendations too.
Experts encourage children, travelling on a school bus, subway, or other modes of public transport, to continue wearing their mask throughout the journey.  Younger children might be prone to lowering their masks frequently during the journey, or removing it completely during the trip.  
For parents and care givers accompanying children, the golden rule, "Keep it on…keep it up…Keep it snug!", points to proper masking etiquette while travelling in public.
Most child care centers have notices posted visibly, reminding parents and children of their masking mandates. It may be a good idea to send your child to the center prepared with a back-up mask in their backpack – just in case…!
Beyond Masking
While masks offer multiple layers of protection for everyone, it's good practice to also consider broader health-checks before dropping-off your child at a daycare in Rockville.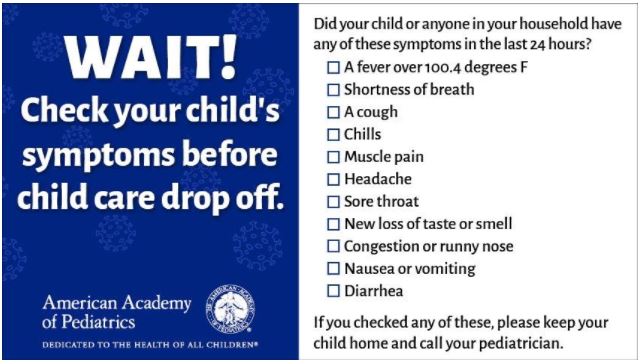 A word of caution about all the public health guidelines: While many of these rules are federally-mandated, many local governments and councils are allowed to tailor them to fit local requirements. Check your local community guidelines first, before you decide to adopt or ignore specific guidelines. In general – it's better to err on the side of caution, and follow a higher standard of protection for your family and your children.
If parents wish to get more definitive guidance on mask-wearing, the Centers for Disease Control and Prevention (CDC) website is a great place to start your review. However, the American Academy of Pediatrics (AAP) also offers guidelines that are more relevant for kids in daycare in Rockville MD.   
Ask More Questions
It's not possible to publish every minute detail, about a facility's masking protocols, online. All well-managed centers encourage parents and guardians to ask more questions.  Even though you research might indicate that a specific center has reiterated its commitment to broader public health masking guidelines, there's no harm in reaching out to the administrators to confirm your findings. 
Centers offering daycare in Rockville MD, typically hold open-houses (virtual or in-person appointments), where they address such questions and concerns from parents. Go prepared with your list and, if you initially aren't satisfied with what you hear – don't hesitate to ask more questions.