B2C eCommerce Market Size Worth $5.53 Trillion in 2021 with the Highest Contribution from the Online Payment Type – GlobalData Plc
The B2C eCommerce market size was valued at $5.53 trillion in 2021, per the latest research report by GlobalData Plc. The report predicts the B2C eCommerce market to garner a CAGR of 9.7% from 2021 to 2026. The rising popularity of electronic payments and the emergence of Big Data and AI technologies are key factors driving the B2C eCommerce market growth. Furthermore, enhanced connectivity with an increase in internet penetration, coupled with technological integration for improving eCommerce solutions, will boost the B2C eCommerce market growth during the projected period.
Read our FREE Sample Report for more insights on the B2C eCommerce market forecast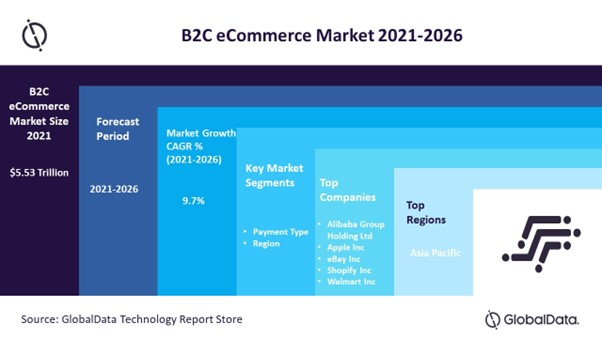 B2C eCommerce Market FAQs
What was the B2C eCommerce market size in 2021?
The B2C eCommerce market size was $5.53 trillion in 2021.
What is the B2C eCommerce market growth rate during 2021-2026?
The B2C eCommerce market will witness a CAGR growth of 9.7% during 2021-2026.
What are the key segments of the B2C eCommerce market?
The key B2C eCommerce market is segmented by payment type and region.
Which region accounted for the highest in B2C eCommerce market growth?
Asia Pacific accounted for the highest B2C eCommerce market share in 2021 and is expected to continue doing so during the forecast period.
Which are the key players in the B2C eCommerce market?
com Inc, Walmart Inc, JD.com Inc, and Alibaba Group Holding Ltd, among others. are the key players in the B2C eCommerce market.
For more queries related to the B2C eCommerce market, grab our sample report copy right here!
B2C eCommerce Market Segment Highlights
The online payment segment showcased promising B2C eCommerce market growth in 2021 owing to the rising internet penetration globally. Moreover, the increase in availability of mobile phone applications that support online payment and their ease of use have promoted their popularity among end-users. Besides, eCommerce platforms have been providing additional benefits and offers associated with online payment that are increasing their marketability and use. As a result, the market growth seems promising for the online segment during designated forecast period.
In terms of regional opportunities, Asia Pacific will continue to hold the largest share of the total B2C eCommerce market during 2021-2026. The evolving online delivery trend in India is expected to favor the market growth over the forecast period. APAC customers are exploring online payment options more than ever, and this trend is expected to favor sales in the B2C eCommerce space. The rapid proliferation of new payment methods such as buy-now-pay-later is also expected to accelerate the regional demand.
Know more about the segment-based highlights, request for a free sample report
B2C eCommerce Market Trend Analysis
The report covers the following
Industry Value Chain
PORTER's Analysis
Market Variables & Impact Analysis
Mergers & Acquisitions (M&A)
Patent Analysis
Job Analysis
Venture Financing Analysis
Social Media Analysis
COVID-19 Impact
Technology Trends
Macroeconomic Trends
Regulatory Trends
Ecommerce Timeline
Download a free sample report for more B2C eCommerce market trend analysis
B2C eCommerce Market Competitive Scenario
Competition in the B2C eCommerce industry is increasingly becoming a straight fight between the US and China, with a handful of tech behemoths dominating the market and amassing huge troves of user data. Various retailers are recognizing this shift in consumer shopping behavior and adopting mobile-first strategies. The availability of a myriad of mobile payments, including virtual wallets, contactless cards, and online payment services such as Apple Pay, Alipay, Paytm, and Samsung Pay, is further boosting growth in the mCommerce trend.
Top B2C eCommerce Market Players
Alibaba Group Holding Ltd
Apple Inc
eBay Inc
Pinduoduo Inc
Rakuten Group Inc
Shopify Inc
Walmart Inc
Zalando SE
Get free sample report for more vendor insights
About GlobalData
GlobalData is a leading provider of data, analytics, and insights on the world's largest industries. As a leading information services company, thousands of clients rely on GlobalData for trusted, timely, and actionable intelligence. Our mission is to help our clientele ranging from professionals within corporations, financial institutions, professional services, and government agencies to decode the future and profit from faster, more informed decisions. Continuously enriching 50+ terabytes of unique data and leveraging the collective expertise of over 2,000 in-house industry analysts, data scientists, and journalists, as well as a global community of industry professionals, we aim to provide decision-makers with timely, actionable insights.
Media Contacts
Mark Jephcott
Head of PR EMEA
mark.jephcott@globaldata.com
cc: pr@globaldata.com
+44 (0)207 936 6400