The AI market size was valued at USD 68.1 billion in 2021, as per the latest research report by GlobalData Plc. According to the report, the AI market will garner a CAGR of 14.8% from 2021 to 2026. The rising deployment of AI integrated with security solutions is the primary market driver in recent years. However, this has also led to a rise in AI-generated cybersecurity threats.
Read our FREE Sample Report for more insights on the AI market forecasts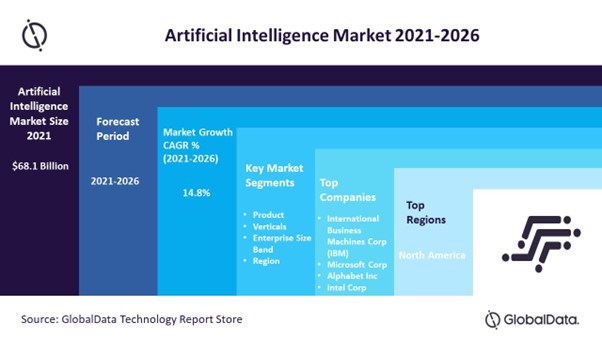 AI Market FAQs
What was the AI market size in 2021?
The AI market size was USD 68.1 billion in 2021.
What is the AI market growth rate during 2021-2026?
The AI market will witness growth at a CAGR of 14.8% during 2021-2026.
What are the key segments of the AI market?
The key AI market segments are product/services, verticals, enterprise size band, and region.
Which region accounted for the highest growth in AI market?
North America accounted for the highest growth in the AI market in 2021.
Which are the key players in the AI market?
IBM, Microsoft Corp, Alphabet, Intel Corp, among others are key players in the AI market.
For more queries related to AI market, grab our sample report copy right here!
AI Market Segment Highlights
The specialized AI applications sub-segment of product/services will emerge as the largest revenue contributor to the AI market from 2021 through 2026.
In terms of regional outlook, North America is the largest regional market for AI products and services with the US undoubtedly holding the largest revenue share of in 2021. The country hosts some of the largest tech companies such as Apple, Google, IBM, and Microsoft, which have played a major role in the development and adoption of AI technology in the region.
BFSI is the largest end-use market for AI in terms of revenue. The accelerated pace of digital transformation with many companies shifting towards data-led strategies and services, makes the BFSI sector a major spender on AI products and solutions.
Stronger financials and propensity to spend makes large enterprises the major spenders on AI technologies. Widespread digital transformation initiatives among large enterprises with a strong focus on data-led strategies also make large enterprises a prolific end-user segment of AI solutions and services.
Know more about the segment-based highlights, request for a free sample report
AI Market Dynamics
The AI market research report covers the following dynamics –
M&A Activity Dashboard
Job Analytics Dashboard
Patent Analytics Dashboard
Venture Financing (VF) Activity Dashboard
Social Media Analytics Dashboard
Market Trends
Market Drivers
Market Challenges Analysis
Download a free sample report for more AI market dynamics
AI Market Competitive Scenario
Vendors are making significant investments in several AI techniques, the most promising is expected to be conversational platforms technology. An increase in the number of deals, partnerships, and mergers and acquisitions (M&A) have been experienced from both supply and demand side market participants over the last two years.
Top AI Market Players
IBM Corporation
Microsoft Corporation
Alphabet Inc.
Intel Corporation,
Apple Inc,
Advanced Micro Devices Inc (AMD)
Alibaba
SenseTime Group Ltd. (SenseTime)
Alteryx Inc
SparkCognition Inc.
Get free sample report for more vendor insights
About GlobalData
GlobalData is a leading provider of data, analytics, and insights on the world's largest industries. As a leading information services company, thousands of clients rely on GlobalData for trusted, timely, and actionable intelligence. Our mission is to help our clientele ranging from professionals within corporations, financial institutions, professional services, and government agencies to decode the future and profit from faster, more informed decisions. Continuously enriching 50+ terabytes of unique data and leveraging the collective expertise of over 2,000 in-house industry analysts, data scientists, and journalists, as well as a global community of industry professionals, we aim to provide decision-makers with timely, actionable insights.
Media Contacts
Mark Jephcott
Head of PR EMEA
mark.jephcott@globaldata.com
cc: pr@globaldata.com
+44 (0)207 936 6400